A lanyard is a cord worn around the neck that usually carries identification cards, keys, and other small items. It holds things securely and gives extended hold on smaller objects. This strap may look ordinary and usual since most of us use it every day. But with a bit of vamp up and color styling of this string, it can already be a perfect piece to complete our OOTD. With that, should we say lanyards are serious business too?
Definitely!
Since a detachable lanyard holds necessary things, its quality and durability need to be guaranteed.
In the past, lanyards are used for securing ropes on a boat and harnessing military weapons. At present, we know them as fabric straps usually worn by people at schools, offices, and events. It may be a simple grab and pay when buying lanyards. But by thinking about its functionality and intended usage, you should take the time to choose.
To help you decide the perfect custom lanyard base on your needs, here are some facts that you have to know about lanyards.
There are several lanyards designed for different organizations and events.
Lanyards for Office Employees
Office buildings and companies are very keen on security. And with that, employee identification is thereby observed as imperative. Wearing ID lanyards, the whole day, employees need a convenient and long-lasting material. For most employees, nylon and cotton types of lanyards are the first choices for comfort and durability. They are easier to get on and off, too.
Lanyards for Healthcare Professionals
Identification of Healthcare professionals is required to appear reliable and legitimate to clients who need immediate care. So, the means of having an all-day durable identification holder or small healthcare instrument holder available by hand with no need of searching your pockets is a huge advantage. Most choose a retractable lanyard in this sense.
Lanyards for Trade Shows or Events
Unlike the above-mentioned lanyards, this type of lanyard classification is made to be used or even once. For trade shows and events, they prefer to have a wider lanyard width that would enable them to print some words or logos.
Lanyards have different attachments.
Key Ring – This type of attachment opens and closes while attached to lanyards. It has a round shape, usually thin like that of a ring. They are best to hold keys.
J-Hook – This attachment is used for identification cards.
Bulldog Clip – Are best used when clipping ID and badges. Among other attachments, this one is more popular since it has already proven its strong capability to hold items, thus, its name.
Retractable Badge Holders – This is one of the latest and widely used forms of lanyard attachment nowadays. Many people turn into using this type because of its convenience. One can extend their event badges to swipe in or out instead of moving their whole body closer.
Types of Lanyard
ID Lanyard – Whether you are a student or an employee, you carry around identification cards. Usually and most probably, they are attached to a lanyard. To hold ID cards is the primary purpose of a lanyard since it promotes easy wearing and access.
Key Lanyard – For those people who tend to forget their keys, connecting your keys to a lanyard is an efficient alternative not to keep losing them. Fasten your keys to a keychain lanyard's attachment, which could be a J-hook or a key ring, and hung it around your neck. You'd instantly have your keys whenever you needed them. Of course, if you think the key lanyard is too long, maybe wrist keychain lanyards & custom keychains can be good alternative!
Pen Lanyard – Like keys and ID's we tend to lose or forget our pens most of the time. The next second after using it and putting it down, we've already forgotten where we placed it. With that, having it connected to a lanyard is a witty hack. Choose a lanyard with a badge reel as an attachment. This would let you not take off your lanyard every time you have to use your pen. The badge reel has a retractable cord that allows users to grab their pens still attached to a lanyard without removing it off their neck.
Phone Lanyard – Lanyards are made durable and secure since they can hold a phone, too! Lanyards can grip a phone the whole day. To be able to do this, another type of attachment is needed. Tie a thin lanyard loop around your two-hole phone lanyard, usually located in the upper left or right corner of your phone. These holes are generally intended for lanyard attachment, either neck or wrist strap.
Tool Lanyard – Emergency kits may vary depending on your profession or whatnot. Lanyards are designed to carry just anything the neck can hold. By that means, a physician or a nurse can attach his or her small tools to provide first aids or check on patients. Engineers or maintenance personnel can get on his day equipped with his small screwdrivers, Allen wrench, or other small tools and provide a quick fix when the situation arrives by simply placing these in a pouch attached to a sturdy lanyard.
Mask Lanyard – One innovative way of using lanyards is having them hold face masks. Nowadays, when face mask is a must, people keep on trying things to make the experience a little better. To keep the face mask safe and unwrinkled, people attach each of its bands to a double-ended lanyard or lanyards for mask that has either a bulldog clip or a J-hook. It will keep your face mask around your neck ready in case you need to use it again.

Breakaway Lanyard – Other lanyards are breakaway lanyard that is more of a safety device. It has a plastic clip behind your nape or on the lower part of the cord that slips off when pulled off. It has a quick release clasp that prevents choking or if the strap gets caught into something.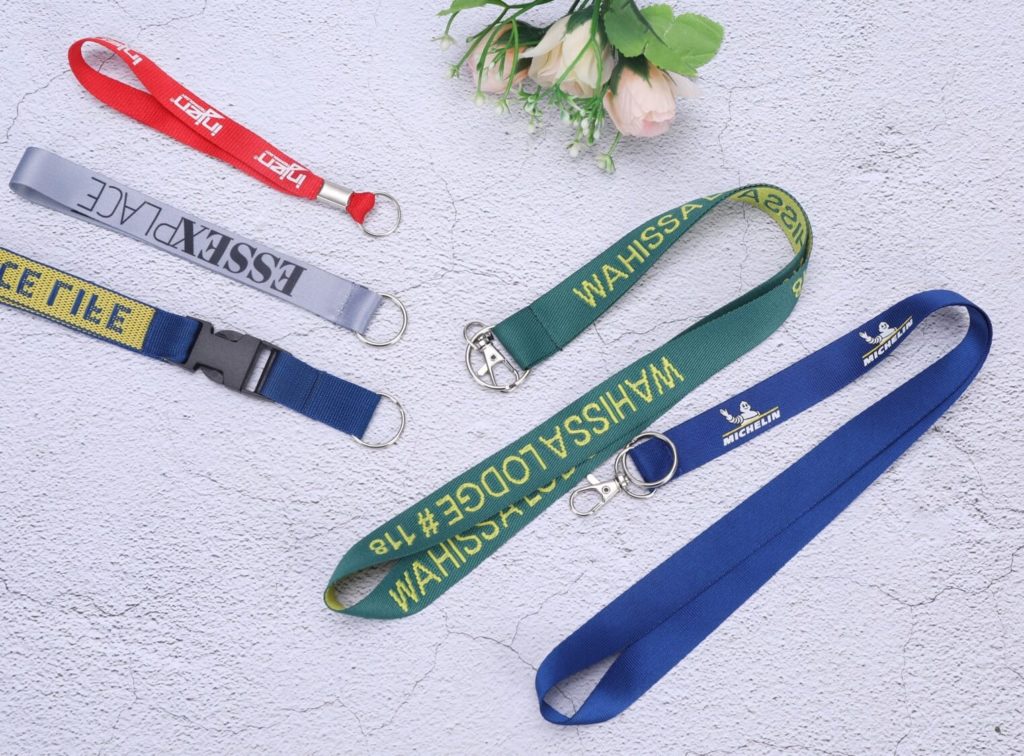 At 4inlanyards, we provide the best comfortable and durable lanyards. With our varied cord designs, sturdy attachments, and availability to customize, we are already ahead of their competitors. High-quality lanyards yet affordable and quick to deliver service is what we promise to cater to our clients. True to that, we offer the best bulk deals in the online market when it comes to custom lanyards.
4inlanyards is a factory-based company specializing in providing customized essential items, such as personalized lanyards, custom cloth wristbands & custom luggage straps, to the wider online market. We are a goal-centered company that marks efficiency and quality to our customer experience.